Humility is not thinking less of yourself. It is thinking of yourself less.
What a poignant and concise reminder that while it is human to strive for glory, to work for accomplishments and even to accept praise (graciously) now and then, it is the reason for our effort that defines our humility. Do we strive for glory and accomplishment in order to receive praise? Do we do it so we can tell others we have reached some pinnacle? Or do we strive because it means time well spent and effort well placed? Do we strive to do the most we can because that is its own accomplishment?
Humility is not thinking less of yourself. It is thinking of yourself less.
This weekend was such an interesting encapsulation of what this statement truly means. Over a three day period, the people of Peachtree Presbyterian Church participated in its third annual Feed My Starving Children (FMSC) food packing event. During this short music and laughter-filled period, families and friends gather for two hours of measuring, packing, sealing and boxing food for children around the world who, because of a lack of healthy food, are unable to go to school, are unable to grow – and in the case of 18,000 children every day, do not live to see another morning.
You read that correctly. In 2011, approximately 18,000 children died from starvation every day. Every. Day.
There are about 1000 students in my kids' elementary school. The idea that the entire school population would be 1 of 18 schools wiped out in a single day, never to return, is too enormous to wrap my head around. If we're ever feeling anything less than lucky and blessed, this is an effective reminder.
FMSC brought stories of such dire need to our Atlanta population of well-fed people, asking for our help. Most of us who came this weekend to help will never know suffering from hunger. We may experience illness or disease, and in some cases, it might be due to an overabundance of food, but it is almost a sure thing that we will not know hunger during (much less throughout) our life.
Now, in truth, when you assemble a group of 1900 volunteers, there are sure to be those who are succeeding and those who are struggling. But none of us brought those personal issues with us to this table (not obviously, anyway). We came, thinking only of those 18,000 children dying each day, and the millions (actually, billions) more who live with it every day.
When my family arrived with 200+ other volunteers for our shift, the leadership team (comprised of FMSC directors and Peachtree Presbyterian ministers), informed us that our time slot had a big challenge. We needed to try to pack at least five full pallets of boxes filled with food, and if we wanted to compete with the leading time slot team, it would have to be almost seven full pallets of boxes. That is thousands of pounds of food, packed to feed orphanages-full of children.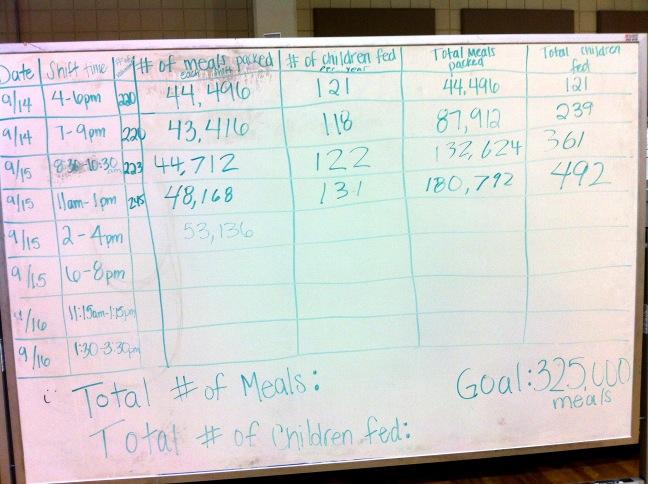 Competition? Did that instill just a little bit of a desire to strive for glory? You bet. Was it driven by a pure desire to win or have bragging rights – or have someone tell us we were so fabulous for all we were doing? No way. It was driven by a desire to work hard to accomplish the goal of feeding as many hungry mouths as possible. It was honest, pure humility – a striving with only the thought of others at its center. And for me, it was tinged with incredible gratitude that my family is in a position to do for others because we're just fine (thank you very much), with a happy home, healthy children, enough food to eat, choices of clothes to wear…incredible gratitude for all we have, and all the worry we don't have.
When we finished the shift and discovered that we had exceeded the goal of seven full pallets, there was lots of back patting, high-fiving and celebrating. It was a celebration of pure effort and teamwork for the greatest purpose imaginable. Then the leadership team gathered us to pray over the food.
We were the hands, the spirit and the voices collected in prayer, but that was all.
The idea was not ours. The example of caring for others so that they can live and be healthy was not ours. We were the hands only. How humbling.
At the end, the FMSC team showed a photo of a sweet, young African boy who had been only a few pounds when he was pulled from an open sewer. He was taken into an orphanage and fed to health by FMSC. He's now a healthy, bright and thriving young man who is a leader in his community.
It's a good thing to remember that we are here to do big things. We are designed – and very able – to do great things. Living our life with humility means we are to do them with something other than our self at the heart of the effort. For many of us, that may be the biggest challenge of all.
***
This wonderful statement about humility (which is taking a place on the Inspiration Door in the kids' hallway), came from a sermon given by Rev. Bryan Dunagan, the Teaching Pastor at Peachtree Presbyterian Church.
If you'd like to learn more about FMSC or support their work, you can get more information by clicking on the logo.